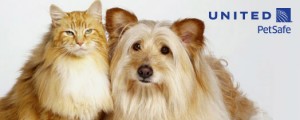 PetSafe Program helps keep your animals safe and comfortable during travel
United Airlines understand the concern their customers have about their animals' safety and well-being during travel and are committed to providing a safe and comfortable travel experience for everyone, furry friends included.
As part of our efforts to merge the policies and airport procedures of our two airlines, on March 3, United will adopt PetSafe®, Continental's award-winning program for traveling with animals.
United PetSafe will simplify the travel process for our customers and their pets. Effective for travel beginning March 3, except for small animals who you will carry on board with you*, we no longer check in animals at the airport ticket counter for travel in the cargo area of the plane. Instead, they will be accepted and delivered at cargo facilities or express package SPD (Small Package Dispatch)/QuickPak offices worldwide.
*Small animals may still travel in the cabin in accordance with existing United and Continental policies.
The PetSafe program provides these benefits:
A dedicated 24-hour Live Animal Desk

United employees worldwide who have completed a USDA-approved, customized live animal-handling course

Enhanced tracking and tracing capabilities.

Dedicated PetSafe handling teams in all airport hubs

Weather and proactive shipment monitoring

More PetSafe climate-controlled vans than any other carrier

Pet hotels at Newark, Houston and Chicago airports
These program enhancements help reassure you that your animal is safe during travel.
Who to call with questions
When you call to arrange travel for your pet, you will receive instructions for where to take the animal once you arrive at the airport. Because PetSafe pricing varies based on the size of the kennel and the travel desintation, y
ou can also get pricing information when you call.
United-operated flights: If you are scheduled to fly on United-operated flights between now and March 3, and your pet will be traveling as carry-on or in a kennel as checked baggage, please call United Reservations at 1-800-UNITED-1 (1-800-864-8331) to make the necessary arrangements.
United is reaching out to contact any customers who may have already arranged for their pet to travel as checked baggage on or after March 3, and ensuring they receive PetSafe booking and service.
Continental-operated flights: If you are scheduled to fly on Continental-operated flights between now and March 3, and you wish to schedule travel arrangements for your pet, please call our dedicated 24-hour Live Animal Desk at 1-800-575-3335 or 832-235-1541.
We also suggest you visit the
PetSafe page
on the continental.com website for helpful tips, recommendations and procedures when traveling with animals.