With Memorial Day fast approaching, can the annual family vacation be far behind? That means that once again, many pet lovers will be faced with the dilemma of what do with their pets while they travel.
A 2009 Travel Industry Association survey indicated that 14 percent, or more than 29 million people, said they have taken a pet on a trip that was more than 50 miles away from home. Traveling animals included cats (15 percent), birds (2 percent), and either a ferret, rabbit or fish (3 percent). But 78 percent of the respondents listed the family dog as the most common traveling pet.
The inconvenient change from normal routine doesn't matter much to a dog as long as it is not separated from its family. Dog owners feel the same way. Forty-three percent of pet owners said they feel guilty about leaving their dogs behind.
Dogtrekker.com, an online site that scopes out pet-friendly places to stay while vacationing, recently released results from a 2011 analysis of American leisure travelers that indicates eight out of 10 people who bring their dogs along when they travel find hotel policies and amenities important when selecting accommodations.
"What really stood out was not the numbers of those who travel with dogs, but the reasons why leisure travel dog owners do not travel with their dogs," said David Kendrick, who founded Dogtrekker with his wife, Roxanne.
"Over 40 percent said that finding dog-friendly accommodations was difficult; a third said that their dog's safety was a concern and over 30 percent said that finding things to do with (a) dog was difficult," Kendrick said.
Of dog travelers, 43.6 percent said there is a poor selection of truly pet-friendly hotels and 17.2 percent said concerns about finding doggie day care in their vacation location kept them from bringing their dog along on trips.
"This survey sends a huge message to the lodging industry. The influence of this significant group of leisure travelers is rising and hoteliers should take note of their concern about expensive hotel pet fees and confusion over pet-friendly policies," he said.
A hotel that promotes itself as "pet friendly" can really mean "pet tolerant," and only just so. Many times the staff is really more interested in getting your business than welcoming your pet.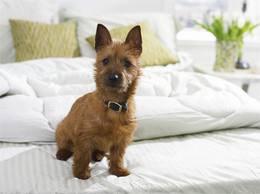 "No pets left unattended in the room" is the norm, said Janet Fullwood, senior editor of DogTrekker who was travel editor for the Sacramento Bee for 22 years.
"This is because a dog left in an unfamiliar environment can bark, whine, scratch, panic, tear up the furniture or otherwise cause a disturbance, damage property or terrify the housekeeping staff. Some properties' exception is the dog is crated," she said.
Planning for a trip that includes your pet is essential, said Fullwood, who shared this personal story about the headaches the unprepared traveler can run into on the road.
"The first time my family traveled with our new dog, we patted ourselves on the back for finding a dog-friendly hotel – and ended up eating in shifts at a Chinese restaurant across the street when we found out we couldn't leave him alone, even in a crate."
But the rule doesn't apply just to canines. I once heard of a couple who traveled with pet parrots. The birds put up such a fuss when their humans left them alone, the manager used a public address system to ask them to return to their room.
Pet sitters are an option during dinner, Fullwood said, "but their services can easily cost more than a meal itself." She said that many times, traveling with a pet requires compromise.
Fullwood provided these tips to help make your travel plans a vacation for every member of the family.
- Always speak with a live person before booking a hotel or vacation rental that claims to be dog-friendly. Many properties won't accept certain breeds, some have weight restrictions and some allow pets only in their most undesirable rooms. Pet fees can be per day or per stay, so be sure to clarify.
- Don't take off on a camping or hiking trip assuming that your dog can accompany you on trails. At many state and national parks, canines are restricted to campgrounds. Rules in national forests tend to be more relaxed.
- To minimize canine-caused distractions on the road, make sure your dog is safely secured in a crate or with a seat belt leash or harness.
- Familiar food, toys, bedding and other comforts from home will help the animal be more relaxed in new environments. Bring a gallon or so of water from home to minimize stomach upsets, and pack cleanup supplies and old towels for muddy feet. If you allow dogs on furniture at home, bring a sheet to cover beds and couches in hotel rooms.
- Make sure your dog is microchipped and has an ID tag that includes your cell-phone number. Tuck a copy of shot records in your canine travel kit and carry photos, just in case.
- "Leave no trace" principles are not just for camping. Always, always pick up after your dog.
Read more here: http://www.miamiherald.com/2012/05/16/2801992/tips-for-traveling-with-pets.html#storylink=cpy