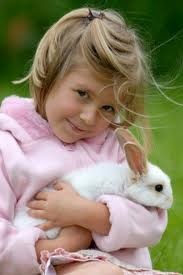 Therapy Pets
Beyond psychotherapy, there is a form of psychological therapy using therapy pets that has positively and profoundly affected people. It is referred to as pet therapy. Therapeutic animals or therapy pets are used as a treatment for people with emotional, mental and physical illnesses.
The American Humane Society says, for example many kinds of animals can be trained for therapy work. Through visits at senior's homes, rehabilitation centers, schools and hospitals, animals can provide comfort, fun and possible healing to the individuals they encounter.
In addition, Holisticonline.com states that the therapeutic use of pets as companions has gained increasing awareness in recent years with people challenged by AIDS, cancer and a host of additional illnesses. The elderly population, children with illnesses and people with mental illness can experience the healing love of therapeutic animals. They bring joy to those they serve.
Through many studies, Pet ownership has been proven to affect people physiologically through the soothing and relaxing sense of touch. Merely watching a pet play or sleep lowers blood pressure and calms the nervous system. Pet owners also may feel needed and responsible for their pet, which often stimulates the human instinct for survival.
Some of the earliest uses of pet therapy in the United States were for the treatment of people with mental illness. Research studies now show the positive physical effects on people from animals including pain reduction, elevated mood and improvement of survival rates of heart attack victims. There is also evidence that petting an animal can cause endorphins to be released in the human brain. Endorphins are chemicals in the brain that suppress the pain response.
Pet Therapy aids people with Alzheimers and Brain Injuries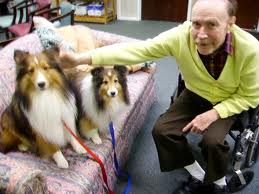 According to The International Journal of Psychosocial Rehabilitation, a therapeutic animal may have healing effects on a non-communicative person. A patient may have with recall of memories after an interaction with a therapeutic animal. Those patients with traumatic brain Injuries or chronic degenerative diseases of the brain such as Alzheimer's, for example, have had a variety of improvements while spending time with a therapy animal.
Animal-Assisted Therapy for Autism
Being around household pets or having structured contact with animals can be a great addition to treatment for children with autism. There are many reports from both parents and clinicians that interacting with animals, formally called animal-assisted therapy, can offer both physical and emotional benefits to children with autism.
Animal-assisted therapy can be as simple as bringing a family pet into the household or as structured as programs that offer horseback riding or swimming with dolphins. Interaction with animals can help children with autism become more physically developed and improve their strength, coordination, and physical abilities. More importantly, many people derive much joy from their relationship with animals, which can help autistic children have a better sense of well-being and more self-confidence.
Animals can be amazing for children with autism, says Colleen Dolnick, a mother in Town and Country, Mo., who has a 10-year-old son with autism. "Animals can relate to these children. And these children, who have a hard time relating to peers, can really relate to animals."
The Rabbit Lady
The Foundation for Pet Provided Therapy (FPPT), says that a friendly and docile rabbit can be a great therapy pet. Also, many rabbits are small enough to be "lap size" therapy pets compared to large therapy dogs. Rabbits offer the advantage of being the least threatening in temperament and the most gentle.
Nancy, a true rabbit lover, is a clinical social worker and has cared for and enjoyed the companionship of three therapeutic rabbits throughout her life. She explained that several factors contribute to good mental health, and that pet therapy and pet ownership are two which belong high on the list.
Nancy, also known as, "The Rabbit Lady," has asked and answered: "What is it about our furry friends that lights up our lives?" Several studies have delved into this subject and found that unconditional love is generally the prime reason people own pets. Books have been written on the different roles pets play for pet owners, including that of teacher, healer and protector.
Nancy says she believes that rabbits have a special place in the world of therapeutic animals because of their extraordinarily mild and non-threatening nature. Therapeutic rabbits can be considered a safe gamble when it comes to exposing them to people who are vulnerable or ill. Rabbits are not predators and so they are not inclined to act aggressively.
Great Lakes Rabbit Sanctuary is home to future therapeutic rabbits that will help those afflicted with a variety of physical, emotional, and mental conditions. Visit its website at www.rabbitsanctuary.org.
Pet-A-Pet is a nonprofit charitable organization providing pet therapy, including use of rabbits; www.pet-a-pet.org.
Dr. Paws, Inc., Pet Assisted Therapy Dogs, in Farmington Hills offers a network of therapy dogs and handlers that can perform animal-assisted therapy; www.drpaws.org.
Len McCulloch is a diplomat of the American Psychotherapy Association. He is credentialed in mental health, brain injury, addictions and social work. For information about "The Rabbit Lady" and the "Our Mental Health Column" call McCulloch at (248) 474-2763, Ext.22.