Frank Delarosa thought it was strange to see a pit bull running down a sugar sand path near the cranberry bogs at Double Trouble State Park on Friday, her leash dragging behind her.
Delarosa coaxed the one-year-old pit bull mix over to him, picked her up and started to head up the path to the park office.
But "Lilly"was restless. Delarosa decided to put her down. She began pulling and tugging him down the path, back towards the cranberry bogs.
It was there he found Lilly's owner unconscious about 150 yards down on the path. Dona Timoney, 51, of Beachwood, had suffered some kind of "medical event" while on a walk with her dog, Berkeley Township Detective Sgt. James J. Smith said.
"She was unconscious, but breathing," he said.
Detective Will Cullen and Patrolman Jon Sperber responded to the scene. Timoney was first taken to Community Medical Center in Toms River by members of the Bayville First Aid Squad and MONOC paramedics. She was later airlifted to St. Barnabas Medical Center in Livingston, Cullen said.
Her condition is unavailable at this time, Smith said.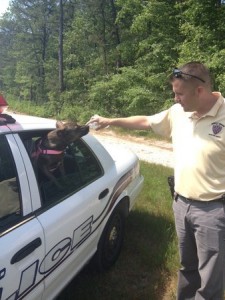 Lilly is now with Timoney's daughter. Timoney had previously rescued the dog from a "drug house" in North Carolina, Cullen said.
"The back of her car was filled with treats and bones," Cullen said. "She's obviously an avid animal lover."
Original Story at http://berkeley-nj.patch.com/articles/pit-bull-leads-good-samaritan-to-stricken-owner-in-double-trouble-state-park?icid=maing-grid7|main5|dl5|sec1_lnk2%26pLid%3D166584#c