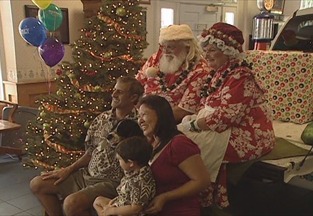 Taking pictures with Santa Claus isn't only for kids. Our furry friends also have a Christmas wish list.
People brought their pets to Mike McKenna's Windward Ford today to get their pictures taken with Santa and Mrs. Claus.
It's all part of the Hawaiian Humane Society's Pictures with Santa Paws fundraiser.
If you missed it this weekend you can bring your pets to Ward Warehouse next Saturday and Sunday from 9 a.m. till 4 p.m. for another Pictures with Santa Paws event.