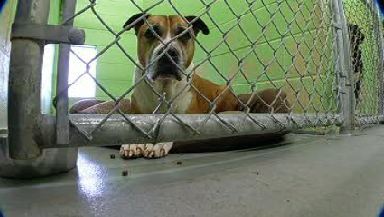 Reports of animal abuse are on the rise, and whether it is a case of neglect or cruelty, in some cases the animals being abused were at some point rescued by their abusers. In this edition of Pet Pointers, Lisa Chelenza explains what rescuers are doing to prevent the animals in their care from ending up in an abusive situation.
At any given time, there are millions of dogs available for adoption through rescues and shelters across the country. Most organizations, like Recycle-A-Bull, go to great lengths to ensure the animals they place end up in the perfect home. Some dogs like to snuggle, others love to play, and some need a little extra attention and training. The screening process is essential to choosing the right forever home and making sure these rescued animals will not be headed into potentially abusive or neglectful circumstances.
Volunteer Stephanie Ciszewski explains how potential adoptive families are chosen.
"We have an application that we ask any potential adopters to fill out. It asks for two person references, a vet check, even if they say they no longer have pets we go back three years. They are required to keep pets up to date with shots, spay and neutered, and always kept on flea and tick medication. We also do a home check, we are very stringent, but it is not invasive, we just want to make sure what you put on your application is true," said Stephanie Ciszewski, Recycle-A-Bull Rescue Adoption.
If you are an individual trying to find a home for a pet, never say pets are free. Insist on vet references and do a home check. Most potential pet parents won't mind. If you have a bad feeling about a home you can politely decline and wait for the right forever home.
When applying to adopt a pet, be prepared for a screening process that will vary from one organization to another.