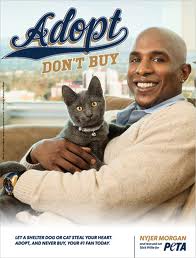 Nyjer Morgan describes himself as an "alpha-male silverback gorilla."
But recently he admitted to having developed a soft side, humorously cautioning fans to not let anybody know.
This revelation came in a video the Brewers outfielder made for People for the Ethical Treatment of Animals, encouraging fans to adopt pets from animal shelters.
Morgan said Slick Willie, a cat he adoped from a shelter last year, "kind of stole my heart."