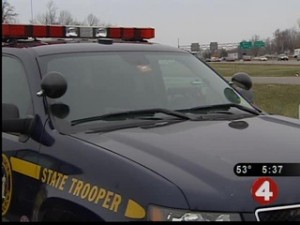 WIRT, N.Y. (WIVB) – State Police used a K-9 team to help track down a teen who they say was caught trying to steal an ATV red-handed.
Around 2 in the morning on Thursday in the Allegany County Town of Wirt, a homeowner went outside to investigate why his dogs were barking. The homeowner spotted his ATV, which had been rolled out of the garage, and a person laying under his camper in an attempt to hide. He immediately called police.
Troopers responded, and with the help of K-9 Nugent, tracked down 19-year-old Dustin Granger of Delevan, who had fled the scene and was hiding in the woods around 200 yards from the crime scene.
Granger was taken into custody and charged with third degree burglary and possession of marijuana. He was taken to the Allegany County Jail on $7,500 bail.