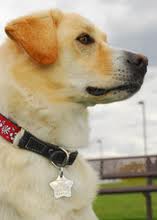 Pet owners are reminded to purchase a license for their dogs and cats this month.
Tags went on sale the first of the month and are available at Columbus Animal Control and five veterinary offices.
The licenses can be purchased at animal control, located on the second floor in the Senior Center, 2518 14th St., for $13 for a spayed or neutered animal, or $25 for an intact pet. Exotic pet permits are also available at animal control. The vet offices can charge an additional processing fee of up to $3 per license for dogs and cats.
The clinics that sell tags include Columbus Animal Hospital, Redstone Veterinary Hospital, Pet Care Specialist, Twin Rivers Veterinary Clinic and A&M Veterinary Clinic.
City licenses will expire Dec. 31. All pets six months and older are required to get a license and be current on rabies vaccination. Owners who had their pets licensed in the past have been sent reminders in the mail to purchase new tags. Failure to renew licenses can result in a citation.
In 2012, there were 2,500 dogs and 500 cats licensed in Columbus.
Donna Winig, lead animal control officer for the city, said tags should be bought not only because it is the law, but because it can increase the chances that a lost pet gets returned to an owner.
"If we pick up an animal and it has it's license, we will find out who the owners are and will take the animal straight home. That is our goal: To get those animals home," Winig said.
When an owner licenses a pet, information is put into a database that is accessed by animal control officers. Winig suggests that when licensing a dog or cat to also provide information on special medical needs. That information also will be put into the database and it can be useful if the pet ever does get lost and isn't reunited immediately with the owner.
"If we do pick it up and know that it needs to have medication daily, we will do what needs to be done," Winig said.
Calling ahead for licensing can speed up the process, otherwise people my stop by the animal control office. Its hours are 8 a.m.-4 p.m. Monday and Tuesday, 8 a.m.-6 p.m. Wednesday-Friday, and 7:30 a.m.-3:30 p.m. Saturday.