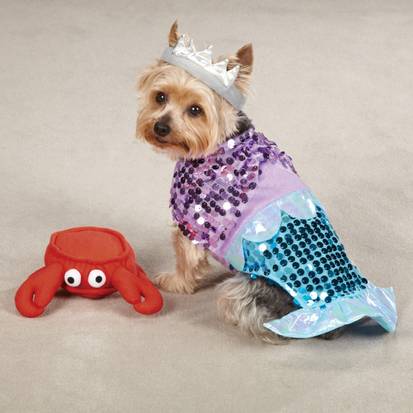 For kids, Halloween is the most exciting night of the year with a chance to dress up and, of course, get pounds of candy. But Halloween isn't just for kids anymore, and Americans will certainly not be forgetting their pets this Halloween.
Household pets are in on the costume action in a very big way. The National Retail Federation says that pet owners across the United States are expected to spend roughly 370 million dollars on pet costumes.
Despite all of the excitement on Halloween, there are many dangers lurking for your pets that lead to unprecedented amounts of veterinary calls and visits.
One of the biggest dangers is the consumption of candy, chocolate specifically.
"Chocolate contains caffeine and theobromide which animals, dogs specifically, are very sensitive to. With chocolate you can see muscle tremors, seizures, increased heart rate, vomiting and diarrhea. When you have a toxic amount of chocolate you are talking about potential death," Lindquist Veterinary Clinic Dr. Catherine Webb said.
While no chocolate is good, some can cause more harm than others. A general rule of thumb is the more bitter the chocolate, the more dangerous the chocolate. This makes darker baker's chocolate much more dangerous than milk chocolate.
Aside from the candy aspect of Halloween, that cute costume could also pose a danger to your pet from disrupting normal movements and even catching fire.
"If you do have candles in pumpkins, doggies with sweaters on and things like that, I would hope people don't have animals dressed up in the home and that whenever they are wearing anything other than their normal fur and normal collar, that they are supervised,
said Dr. Webb.
Your own costume could also be a danger to your animals in the form of props and small pieces falling from them. These present a choking hazard and pets should never be allowed near any costumes.
And we all know Halloween means parties and a lot of people in and out of your home. Because of this, Halloween ranks number two in pets getting loose.
"Halloween is number two for top days animals run away and disappear. I always recommend permanent identification for animals in the form of a micro-chip," Lindquist Veterinary Clinic Dr. Catherine Webb said.
Lindquist Veterinary Clinic reminds pet owners that Halloween can be a great holiday but to take extra precautions and keep a close eye on your pets.
And if you were wondering, the most popular animal costumes are pumpkins and devils.
by Brian Doogs
Brian Doogs is KTVO's morning meteorologist and Multi-media journalist.