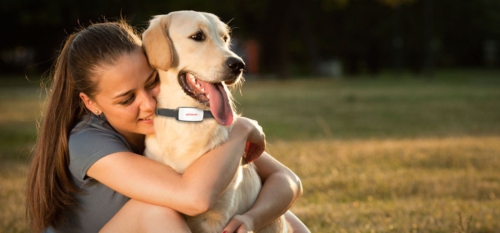 Gibi developed the best pet GPS location service (tracking). We will help find your lost pet — quickly, accurately, and reliably. Using Gibi's stylish devices and easy-to-use app, it is simple to find your pet. With the press of a button on your smart phone or computer, up pops a Google map with your pet's exact location and turn-by-turn directions to her.
It is an awful feeling to lose your best friend. The statistics are terrifying that 1 in 3 pets go missing in their lifetime and every year 4 million pets are euthanized because owners cannot be identified even with microchips and dog tags. Microchips and dog tags require pets to be found first –and that could take time or never happen.
Gibi's devices are high-quality, fashionable and easy-to-attach securely to most 3rd party collars. It was important in Gibi's design that it does not act like a hook or a snag. It is also waterproof for your water‑loving pets.
The battery lasts 7 days with normal use. You'll get a text message or email when there are 2 hours remaining use and device needs charging. Simply slide device off collar attachment, place it into the charger for 2 hours for full charge, then slide back into collar attachment. All can be done without taking the collar off your pet.
Virtual fences can be easily set around your house and back yard or multiple other places to get a text message or email letting you know that your pet has left the virtual fence.
If you want to know where your pet has been, you can also check her path history. Say you want to know where your dog walker has taken your dog.
Gibi can now be pre-ordered by making a contribution on Indiegogo, one of the world's best crowd source funding platforms. Check out www.indiegogo.com/gibi. The more Gibi raises, the more Gibi can do…and Gibi has plans beyond pets.
About Gibi Technologies Inc.
Based in Menlo Park, California. Gibi (pronounced gĭb bē) is an early stage start-up. We developed the best pet GPS location service (tracking) with our passion for pets, deep sympathy for pet owners of lost pets, and engineering background in satellite telecommunications industry. www.gibitechnologies.com.