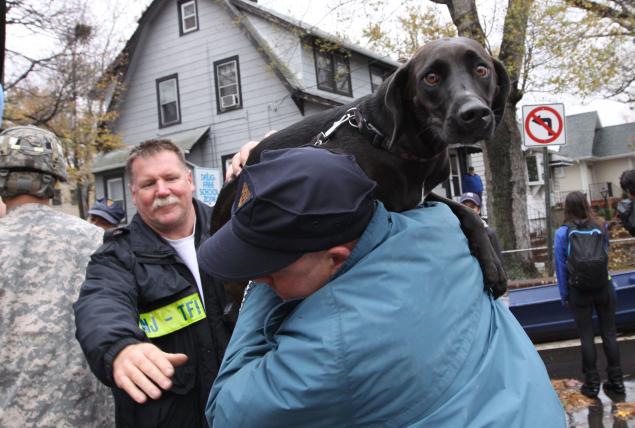 If you are a New Yorker, and a pet lover, you will know that not only humans were displaced due to Hurricane Sandy, and FosterASandyPet.org have taken an initiative that gives people the opportunity to make a difference – by offering a temporary safe home for a pet whose family has been displaced by the disaster. As the clean up from Sandy continues, in some cases, providing a foster home is the only way to keep pets out of shelters and allow them to reunite with their families.
St. Hubert's Animal Welfare Center, the Animal Welfare Federation of New Jersey, and The Humane Society of the United States have joined forces to provide services to help keep pet families together throughout Hurricane affected areas of the state by building foster relationships and providing supportive services.
"Many families are facing housing displacement which threatens their ability to keep their family intact and sadly, we know that moving is a leading cause of pet relinquishment to animal shelters in this country," said Heather Cammisa, President & CEO of St. Hubert's Animal Welfare Center. "Pets are part of the family and after people have lost so much, we don't want them to be forced to give up their beloved furred, finned or feathered family members," she added.
The program launches with a central website www.fosterasandypet.org that serves as a matching venue for people willing to provide temporary housing, called fostering, with pet families in need. The website includes photos, profiles of site members, tips for all parties, a sample foster contract and links to valuable behavior resources to help foster homes integrate pets into their home. If a match is made and registered, there is access to ongoing support such as pet food, supplies, behavior counseling and other supportive services including some veterinary care support.
"We have heard from people around the state and beyond that they want to help pet families and this is a way to connect them in a supportive way, "said Niki Dawson, President of the Animal Welfare Federation of New Jersey. "With the extent of damage and our knowledge that about 50% of homes in New Jersey have at least one pet, we know there is great need."
The Humane Society of the United States championed the creation of a foster network to give impacted families the peace of mind to arrange for their pet's long-term care while they begin to rebuild their lives. Kathy Schatzmann, HSUS NJ State Director added, "We applaud the tremendous efforts of St. Hubert's Animal Welfare Center and the Animal Welfare Federation of New Jersey to keep families and their pets together during this difficult time."
Anyone interested in providing services such as grooming, veterinary care, pet food or supplies or who is interested in volunteering to answer phones and emails is asked to please contact info@fosterasandypet.org or call (732) 377-3701.
ABOUT ST. HUBERT'S ANIMAL WELFARE CENTER
Founded in 1939, St. Hubert's Animal Welfare Center is a non-profit organization dedicated to the humane treatment of animals. Its services to the community include pet adoption and animal rescue, animal-assisted therapy, humane education, pet training, and pet loss support. St. Hubert's Animal Welfare Center has shelters in Madison and North Branch, N.J. and a Training and Behavior Center in Madison, N.J. For more information about St. Hubert's, call (973) 377-7094, or you may visit St. Hubert's on the Web at www.sthuberts.org.
ABOUT THE ANIMAL WELFARE FEDERATION OF NEW JERSEY
It is the mission and purpose of the Animal Welfare Federation of New Jersey (AWFNJ) to unite all New Jersey animal protection organizations, to exchange ideas and information, to work collectively, to elevate the standard of care and level of knowledge related to animal welfare in the state of New Jersey. For more information about the AWFNJ, visit www.awfnj.org.
ABOUT THE HUMANE SOCIETY OF THE UNITED STATES
The Humane Society of the United States is the nation's largest animal protection organization, rated the most effective by its peers. Since 1954, The HSUS has been fighting for the protection of all animals through advocacy, education and hands-on programs. We rescue and care for tens of thousands of animals each year, but our primary mission is to prevent cruelty before it occurs. We're there for all animals, across America and around the world. Celebrating animals and confronting cruelty — on the Web at humanesociety.org.