Firth Veterinary Hospital in London, ON is raising awareness about the importance of regular pet grooming to help keep pets healthy and prevent fleas. According to veterinarian Dr. Peter Firth, grooming is an important part of routine pet care. The animal hospital offers grooming services that include nail trimming and ear cleaning. Pets also receive a bath, comb and detangling treatment, and physical inspection for the presence of fleas or flea dirt. In anticipation of warmer summer weather, the animal hospital is also cautioning pet owners against "over-trimming" their pets fur, and recommends that pet owners choose a professional groomer.
Dr. Peter Firth, London, ON vet and owner of Firth Veterinary Hospital, is raising awareness about the importance of regular pet care and grooming for flea prevention and overall health. Nail trimming also helps maintain a dog's proper gait.
"Regular bathing and grooming helps to keep pets' coats healthy, strong and de-tangled," said Dr. Firth. "A dirty, tangled coat is a breeding ground for fleas, and can make it extremely difficult for pet owners to identify ticks. Our pet spa provides year-round regular grooming sessions, and we strongly recommend that pet owners take advantage of our pet grooming services, especially during summer months. May to November is flea and tick season, and regular grooming is an important weapon in the battle against these pests."
In addition to grooming and bathing services, the veterinary clinic also recommends a medicated flea and tick preventive treatment. Pet owners can sign up to receive a monthly reminder email through the practice's online Pet Portals.
The vet hospital provides full-service grooming in the pet spa. This includes the Hydro-Surge Bathing System, which provides a gentle, massaging bath to help exfoliate dead skin cells, remove oils and dirt, and unclog hair follicles. According to Dr. Firth, the Hyrdosurge Bathing System can also provide pain relief for pets who are suffering from arthritis. A bath is followed by a blow try, nail trimming and ear cleaning.
With the summer months approaching, Dr. Firth is also urging pet owners to take advantage of the clinic's professional trimming services and massage system.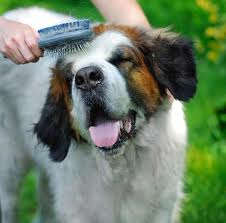 "During summer, pets with heavy coats can overheat," said Dr. Firth. "However, shaving off a pet's hair at home is not always the best option. Some fur is required to protect a pet against the sun's harmful rays. We strongly recommend a professional groomer for any summer trims. Hydro surge massage system that even removes the hair easily as it massages from labs and shepherds that continually tend to loose hair. After they have been massaged and cleaned up with the Hydrosurge system the need for daily vacuuming will be reduced."
Dr. Firth helped found Firth Veterinary Hospital in 1973. Today, the vet hospital provides comprehensive pet wellness services for cats, dogs, pocket pets and birds in the St. Thomas, Aylmer, Dutton and Woodstock communities.
Firth Veterinary Hospital, http://www.firthvet.com/