Pets are considered part of the family these days, and when they are lost or missing, it can be devastating.
Recent statistics show the numbers are increasing by huge amounts, but owners are getting more and more help in the fight to find them.
When Crimson found a way through her electric fence and was gone for days, Andi Sims was beside herself.
"It's such a hopeless and helpless feeling. You want to do something, but you don't know what to do," she says.
Andi put up flyers around the neighborhood and stopped at the area vets to see if Crimson had turned up. Then she turned to social media.
"Posted it on Facebook, I posted it on Craigs List. I put that we had lost our dog on Twitter," she says.
A friend who say her post about the missing dog saw another that said one was found and connected the dog, so to speak.
This is just one of many ways pets are being reunited with owners after going missing, and increasingly common trend, according to the American Kennel Club.
"In 2010, we tracked 255 pet thefts, compare that to last year, 2011, we tracked 432 pet thefts, so there was an increase of nearly 70%" said Lisa Peterson with the American Kennel Club.
Those are just the cases they tracked through media and online reports. According to
petfinder.com
, more than 2 million pets disappeared last year. Less than 10% made their way home.
Pet expert Charlotte Reed claims companies are hoping to change that statistic by bringing high tech options to animal owners, like the Tagg GPS system.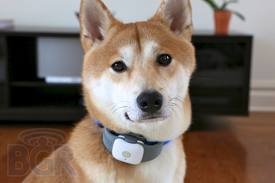 Reed says the device is "attached to your pet's collar and it will let you track your pet in real time."
You will get a text or email when your pet leaves the zone you set up and you can see exactly where they are, as long as the collar is still on.
There is also a collar that uses QR codes to tell others about your animal. You just register your pet online, then order and ID tag which can be read with a regular QR code app.
"So, if someone has the phone app, they can scan the tag and find out all about your pet. Also, there's Amber Alerts for pets where you can actually upload your data, pay a fee and they'll do all the legwork for you," said Reed.
With animal theft on the rise around the country, the American Kennel Club still prefers micro-chipping, which is embedded under the animal's skin.
Websites like missingpet.net are dedicated to missing pets and also help.
No matter what, don't give up hop.
"In the last year or so we've seen pets who have returned home after 8 year, 12 years" says Reed.
Read more: http://www.abc2news.com/dpp/lifestyle/finding-missing-pets-goes-high-tech#ixzz1y3pafeY1