Unique case study examines the world of pet adoption.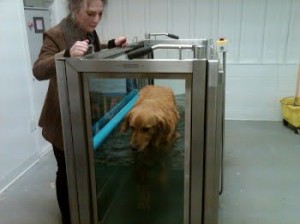 Cody, the golden retriever, has fit easily into life with his new family, Andrei and Kiki Markovits. To see a picture of him cuddled on the couch, no one would guess this dog had ever known cruelty. But, in fact, Cody, who is believed to be between 3 and 5 years old, was saved because an animal control officer discovered his previous owner kept him chained outdoors and almost starved him. The officer took Cody to a shelter. From there, Cody went to a golden retriever rescue, which ultimately placed him.
Pure breed dog rescues, like the one that helped Cody, have existed for only about 30 years, according to Markovits, a University of Michigan political scientist. In their brief history, they've saved millions of dogs that would otherwise have been destroyed due to pet overpopulation. They've also sparked some controversy, famously when television talk host Ellen DeGeneres gave away her adopted dog Iggy and ran afoul of a standard agreement. The agreement obligated her to return the dog to the rescue organization if she couldn't care for him any longer. (Rescues typically include that clause to avoid any possibility the pet will end up homeless and unwanted.)
As a young professor, Markovits found out about rescues back in 1988 when he mentioned he wanted a dog, and a Newton, Mass. veterinarian suggested he try Yankee Golden Retriever Rescue, which formed in 1985.
He took the vet's advice and adopted Dovi, a golden about 8 years old.
The dog quickly became a legend at Harvard University where Markovits taught. Dovi, so named because he looked like a little bear, followed Markovits everywhere, padding alongside the professor to classes. Dovi even boarded the Concorde and accompanied Markovits on a European adventure.
"He had a wonderful life," Markovits said. Dovi, who died at age 16, was Markovits' first rescue dog.
Dovi also inspired the first academic research on pure breed dog rescue. The research has opened a window into a secret and oft misunderstood world. So far, Markovits has explained, the people who started dog rescue organizations – and almost all the leaders have been women – came along at the same time that attitudes about domestic animals were changing in the U.S., Canada and some 30 advanced, industrialized nations. (The landscape includes northern Europe, Australia and New Zealand.) To sum up, dogs and cats were pets in the 1960's; now they're family members.
"Dogs have gained a form of sovereignty they've never had in human history," he said, and added the attitude change happened about 20 years ago. Of course, the pets aren't considered man's intellectual peers, he said. They can't do advanced math or read philosophy, he said.
"But morally and in terms of souls," he said, dogs are being seen as "absolutely equal" to mankind, with as much right to exist and be treated humanely as people.
His research, "Women and the World of Dog Rescue: A Case Study of the State of Michigan," which Markovits and University of Michigan colleague Robin Queen published in 2009, also probed some reasons why dog rescue is "female dominated."
Women outnumber the men 10 to 1 in Michigan canine rescues, he said, and the picture nationwide probably looks similar.
Women have filled almost all the leadership positions in thoroughbred dog rescue, he added. Most women are unpaid. Pure breed rescues have mobilized thousands of volunteers, and most of them are also women.
They have changed the way people talk about dog rescue, he said. Thoroughbred dog rescuers were first to borrow phrases like "foster moms" and "forever homes," terms that had up to then been used strictly to talk about abandoned and neglected children, he said.
They also made innovations that showed a growing sense of the animal's "personhood," he said.
For example, rescues place animals in foster homes. That's in contrast to shelters and humane associations, which typically house animals in a kennel. The rescues also give the animal basic obedience training and match it to the prospective new owner.
Those prospective new owners are put to the test before a dog goes home with them, however. In some cases, the review is so formidable, the rescuers have come under fire for rejecting too many people who want a dog but can't meet their exacting standards.
"It is a certain kind of potential zealotry," he said, and added he would expect some rescuers to become overly protective of the animals. He's also seen cases where the dog rescuers have become lost in the mission, abandoned family obligations and even veered into animal hoarding. But by and large, Markovits says the rescuers don't deserve the bad rap.
"They are anything but zealots," he said. In reality, they're married, middle class, educated, empty-nesters.
Consider the dog, he said. It's hard to say whether a dog rescuer is being overzealous or prudent when turning down a prospective dog owner. Maybe someone who works long hours shouldn't be given an animal that's already been neglected, he said.
Markovits did want to find the reason why almost all Michigan canine rescue executive directors are female, so he and Queen interviewed both dog rescuers of both sexes.
The women and the men disagreed about the reasons, Markovits said. Women claimed they do more to save homeless and abandoned dogs because they're the more nurturing and more compassionate sex. They're also the kinder sex and they care about animals more than men do.
Not so fast, the men said. In the male view, women have more time on their hands for jobs like dog rescues because they shoulder fewer responsibilities at home. (Among other reasons, the men also did admit the women are better organized and therefore better able to manage hundreds of volunteers.)
There's more to say about why women have dominated dog rescue and what they have to gain. Markovits is working on a book now to go beyond the Michigan case study and delve into the whole world of dog rescue.
"The mission is phenomenal," Markovits said, "to save an injured being and give it a chance at life." These women are doing important work, he said. Plus, by working with other people on dog rescues, they are making the world a better place for people as well as pets, he said.
Pictured: Cody, a golden retriever rescue, had suffered problems with his knees and things, according to Michigan professor Andy Markovits who adopted him. To rehabilitate his limbs, the dog underwent therapy on an underwater treadmill at Animal Rehabilitation Facility in Dexter, Mich. where Kiki Markovits, the professor's wife, monitored his progress. (Photo Courtesy of Andrei Markovits)