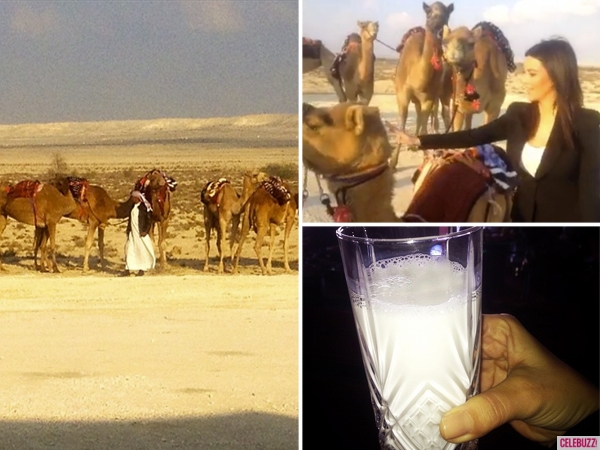 Kim Kardashian got a good taste of the Middle East.
During her recent three-day trip to the region, the E! reality star got in touch with the local culture of Bahrain, the tiny Gulf nation where she was on hand to unveil a Millions of Milkshakes at a mall south of the capital Manama.
After tending to her promotional duties at the official opening, Kardashian took to the sandy desert to get up close and personal with a crowd of camels. Barefoot in an all-black suit, Kardashian cautiously approached one of the mammals and caressed its back.
"Such a fun day in Bahrain!!!" she tweeted after her afternoon with the camels. Kardashian even sipped on the animal's milk: "Got Camels Milk???" she tweeted, along with a snap of a full glass.
Before leaving the Middle East, Kardashian raved about her time abroad. "Thanks @sheerazhasan and Paresh A Shah for an amazing trip to The Kingdom of Bahrain and Kuwait," she tweeted. "We did it!!!"
While swarms of screaming fans greeted Kardashian at her Millions of Milkshakes appearances, some of the locals were less than enthused with the reality star's visit. As she stepped out to open the franchise at a Bahrain mall, throngs of Islamists protested outside, according to reports. As the demonstrators waved dissenting banners, police tried to disperse the crowd by throwing stun grenades.
The protests came on the heels of a group of conservative Bahraini parliamentarians trying to prevent Kardashian from stepping foot in their nation. Days ahead of the reality star's planned visit, the officials cited her "bad reputation" in putting forth a proposal to ban her from visiting the country. But the motion was never put to a vote.